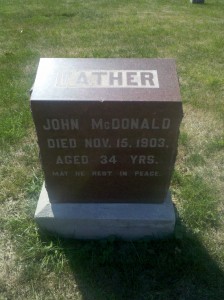 Topics and Families of Interest
Researching since 1977, when a middle-school history project led to old family histories and interviews with extended family members, Dave McDonald has traipsed cemeteries in New England, the Great Plains and the Deep South. Courthouses from the Rocky Mountains to the Atlantic Seaboard have been visited for information and clues. Archives and libraries in major cities across America and in Europe have produced obscure references to families from centuries past.
Taken together, these bits and pieces can be carefully woven to provide interesting insights into family heritage and patterns of behavior.
Since 1995, Dave has compiled two parish register abstracts:
So Great a Cloud of Witnesses: The People of Zion United Church of Christ, Hanover Township, Lake County, Indiana, recounts the life events of a German-heritage congregation established in 1858.
Bring Many Names: The People of Saint John United Church of Christ, Washington Township, Will County, Illinois, notes the events of Zion's daughter church, established in 1864.
An ordained minister in the United Church of Christ, Dave was Pastor at Zion, 1993-97. He is a member of the Evangelical & Reformed Historical Society and the Congregational-Christian Historical Society, both of which focus on the histories of congregations of predecessor denominations which merged to form the United Church of Christ.
Family Records and Research
Dave has published genealogies of the descendants of William HUMPHRIES and Sally STATHAM of Virginia; and of Jonathan BETTS and Polly PUTNAM of Seneca County, Ohio. He was a contributor to a genealogy of the descendants of Sgt. James LANMAN, a Revolutionary War soldier who died Perry County, Indiana.
He compiled Supplement IV to Descendants of Thomas and Richard BRUSH of Huntington, Long Island, by Stuart C BRUSH and Russell B BRUSH. This supplement continues daughters' lines not included in the original compilation.
Dave studied as a distance learner with the Institute for Heraldic and Genealogical Studies at Canterbury, Kent.
Other ongoing projects include the ancestries of the Speakers of the United States House of Representatives; New York and New England immigrants to Wisconsin; and Congregational pastors of the late Nineteenth Century.