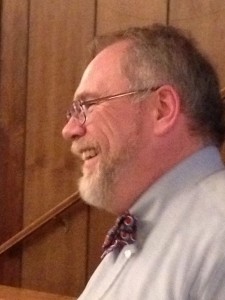 David McDonald has more than thirty years' research experience throughout the United States, Canada, and in various European countries, particularly the British Isles and Germanic Europe.
Dave's research specialty is in the "Old Northwest," those states (or parts thereof) formed from the "Territory Northwest of the River Ohio": Ohio, Indiana, Michigan, Illinois, Wisconsin and Minnesota. In addition to these states, Dave has conducted extensive research in neighboring states, such as Kentucky, Iowa, Missouri and Pennsylvania and elsewhere across the United States. He has research interests in transcontinental migrations of New England families, the effective use of Christian church records and repositories, and fraternal organizations and societies and their records of genealogical interest.
For genealogical societies looking to conduct a research road trip, Dave provides competent guidance and research assistance on-site. He has hosted groups in Washington, DC; New York City; Springfield, Illinois; Salt Lake City and Madison, Wisconsin.
Dave holds the credential Certified Genealogist(sm) under the auspices of the Board for Certification of Genealogists, Washington, D.C. He has been a volunteer proctor for the National Genealogical Society's Home Study course.
Whether you're seeking an experienced researcher to help you solve a challenging research project, or an entertaining and informative seminar leader or workshop speaker, Old Northwest Research can help. David McDonald brings a broad background as a genealogical researcher, lecturer, writer and columnist to your society's event.
Contact:
Dr. David McDonald CG
Old Northwest Research LLC
P O Box 144
De Forest, WI 53532-0144
Telephone: +1 608/846-0486